Causes
Competing With China
Investing in American-made manufacturing can stabilize critical supply chains, strengthen our competitive edge with near-peers such as China, and create jobs in communities across the country. Humanity Forward is working with Congress to create opportunities that give America a leg up in our strategic competition with China — especially in developing future innovations in science and technology.
Falling Behind
American competitiveness in the global economy is at risk. As technological advancements open up new opportunities, there is a present and growing concern that innovation in critical 21st-century markets will take place outside of U.S. borders at an increasing rate. This, coupled with offshore production of technologies developed in the United States, has revealed significant vulnerabilities to American industry and national security.
One concern, in particular, is the vulnerability of global supply chains in tech manufacturing. Semiconductors — complex silicon products known colloquially as computer chips — take approximately three months to produce in a complex series of over 700 steps to complete one batch. With large-scale halts to production in 2020, coronavirus outbreaks in manufacturing hubs, and a subsequent spike in demand for chips, producers found themselves with an unprecedented backlog of orders. In 2022, two years after the initial spread of coronavirus, industry experts expect that the present-day chip shortage will likely continue for at least two more years based on current backorders.
Prioritizing American Made
This chip shortage illustrates the vulnerabilities presented by offshore dependency on key manufacturing components. By prioritizing American-made products expected to play a critical role in the 21st-century economy, the United States can secure supply chains for industry, create economic opportunity for Americans, and preserve a climate of innovation that can keep the American economy ahead of economic competitors like China.
Now is the opportunity to invest in America's national security and competitiveness. The United States' place in the evolving global economy is anything but certain, so it's critical that concrete steps are taken to invest in preserving a strong future for decades to come.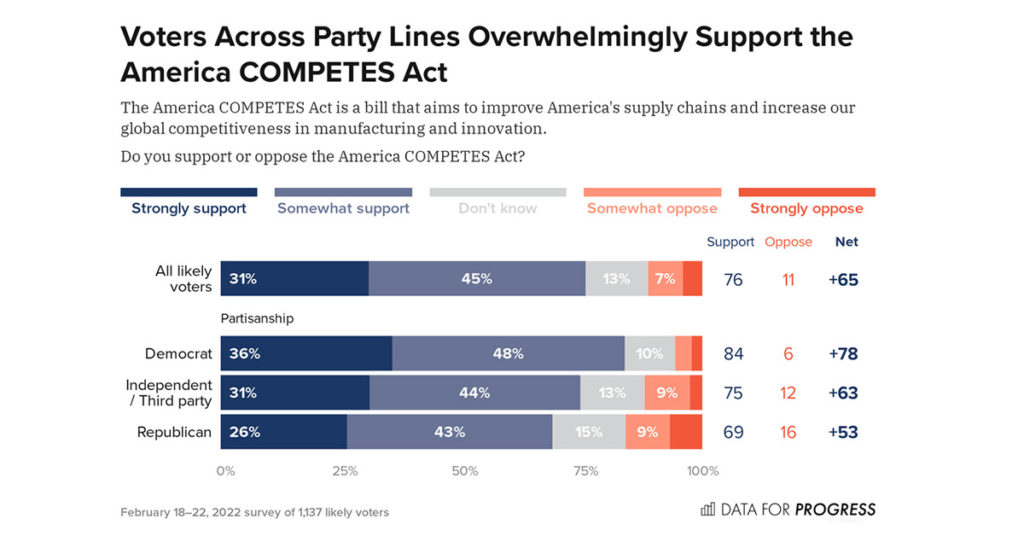 The CHIPS and Science Act
The CHIPS and Science Act is a landmark investment in America's future, with support on both sides of the aisle and endorsements from American labor and industry leaders. The law married provisions of the House's America Creating Opportunities For Manufacturing, Pre-Eminence in Technology and Economic Strength Act of 2022 (AMERICA COMPETES) bill and Senate's United States Innovation and Competition Act of 2021 (USICA) bill to keep America competitive in the global economy.
Simply put, the CHIPS and Science Act is a large-scale investment to empower the United States to restore innovation and manufacturing in critical technology industries.
Monumental Opportunity
The CHIPS and Science Act represents a monumental opportunity — to invest in American-made manufacturing, create millions of jobs, address future supply shortages in tech manufacturing, and lay the groundwork for future innovations in science and technology. This will help ensure that American industry and labor remain competitive in the long run. However, there are always more steps that we can take.
By educating lawmakers on key provisions that will strengthen American competitiveness, we can advance legislation with far-ranging positive impacts for the United States.