Breaking Down BIA: The CHIPS investment
Decades of industrial outsourcing overseas have caused American production of semiconductors to dwindle. Today, 92 percent of the world's semiconductors are produced in Taiwan.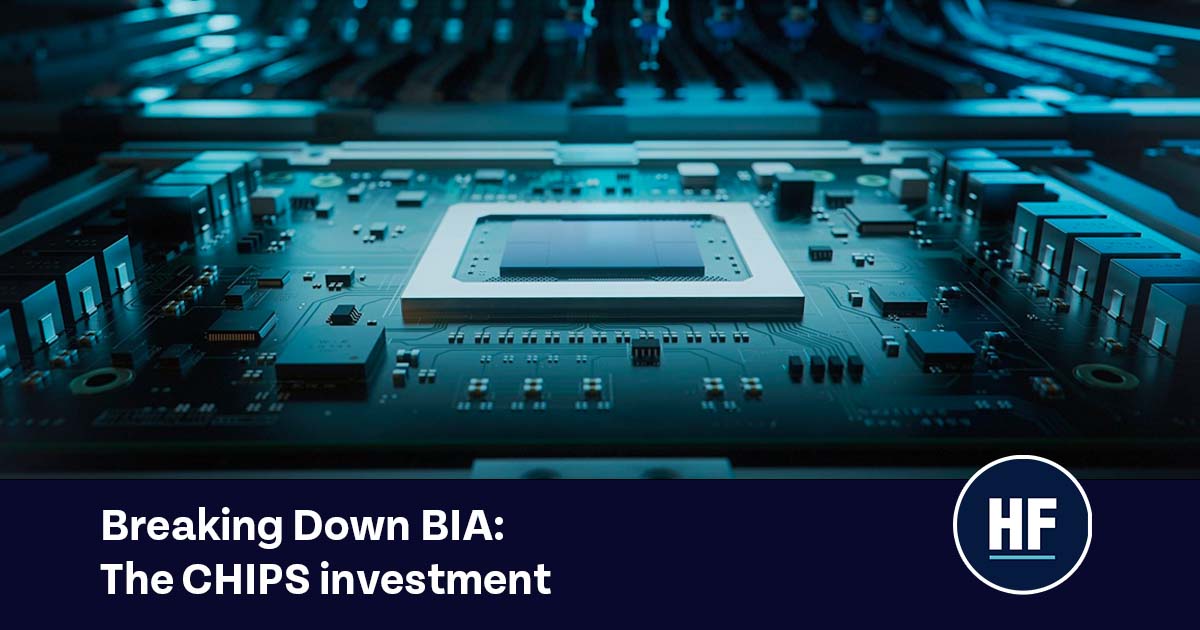 What you need to know about Congress' bill to compete with China on tech.
Solving a Supply Crisis with CHIPS for America
The United States invented the computer chip, which has proven itself to be a revolutionary advancement in technology in today's modern world. They are essential parts of many of the consumer goods that people in the 21st century take for granted, from cars to smartphones, washing machines, and refrigerators.
With the spread of coronavirus in 2020, many corporate buyers of semiconductors halted orders, expecting a sharp decline in demand for electronic goods. Looking back, this may have been a mistake. With millions beginning to work from home to stop the spread of COVID-19, demand for computers, cameras, and other electronic goods did the opposite of what was expected — it rose dramatically.
Semiconductors — complex silicon products known colloquially as computer chips — take approximately three months to produce in a complex series of over 700 steps to complete one batch. With large-scale halts to production, coronavirus outbreaks in manufacturing hubs, and a subsequent spike in demand for chips, producers found themselves with an unprecedented backlog of orders. In 2022, two years after the initial spread of coronavirus, industry experts expect that the present-day chip shortage will likely continue for at least two more years based on current backorders.
The chip shortage has caused a ripple effect of price increases in electronic goods that require semiconductors to finish production. Cars, in particular, illustrate the market effects of insufficient supply. The new average was noted by Kelley Blue Book, which calculated an amazingly rapid rate of increase in car prices for the past three years. The average price rose just under $1800 in 2019, then just over $3301 in 2020, and then an incredible $6220 in 2021.
Benefits of the CHIPS Investment
The CHIPS for America Fund is an effort by Congress to expedite the process of getting the world economy back on track when it comes to producing semiconductors and to bring manufacturing opportunities back to American shores in the process.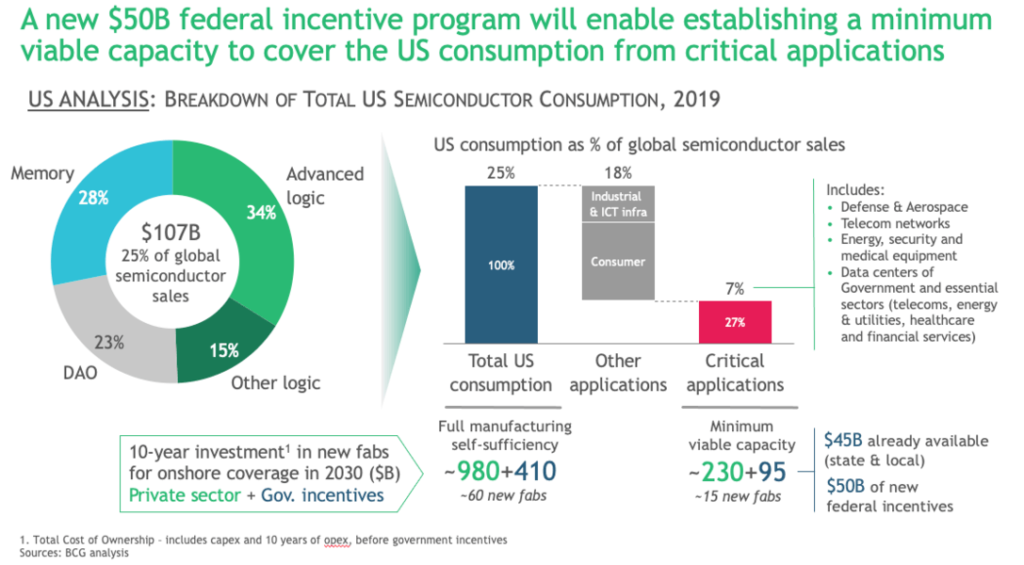 Securing Supply Chains

Decades of industrial outsourcing overseas have caused American production of semiconductors to dwindle. Today, 92 percent of the world's most advanced semiconductors are produced in Taiwan.

This, lawmakers say, is particularly concerning from a national security perspective. One of the most critical components of technological goods is almost exclusively built in a country that is in close proximity to adversarial China, which does not recognize Taiwan's sovereignty and considers the island nation to be a part of mainland China. The threat of aggression poses a risk not only to the people of Taiwan but to the world's economy. The CHIPS for America Fund mitigates that risk, by investing in a more secure supply chain for semiconductor manufacturing.

Supply chain resiliency programs in BIA would dedicate roughly $45 billion in grants and loans for American businesses to boost domestic manufacturing. This investment is critical, not only for America's long-term future but also for resolving our present supply chain crisis in manufacturing technological goods.
Investing in American Jobs & Innovation

$50.2 billion for the CHIPS for America Fund would not only help secure domestic supply chains but also create new manufacturing jobs and reduce costs brought on by pandemic-related shortages. It would also reauthorize and strengthen the Hollings Manufacturing Extension Partnership (MEP), bolstering small and medium-sized manufacturers nationwide and help provide more meaningful career paths for Americans residing in traditionally-underserved communities.
Opportunities for Innovation

Over the past three decades, the United States has declined from ranking first in innovation to ninth. BIA investments would secure funding for research and development at American universities, which would advance American innovation by funding work on new patents in emerging markets. With the resources invested in American manufacturing, any new technology developed as a result of this bill would be able to see production in the United States, as well.
The CHIPS investment, a key part of the Bipartisan Innovation Act, would ensure a resolution to the ongoing chips shortage which has caused unprecedented disruptions to the sale of technological goods while also securing stronger possibilities for emerging technologies in the 21st century to be developed and produced in the United States. If passed, it will be a landmark investment in the future of the American economy and all those who take part in it.
Resources:
What is the Bipartisan Innovation Act?
Semiconductor Industry Association