What is the Bipartisan Innovation Act?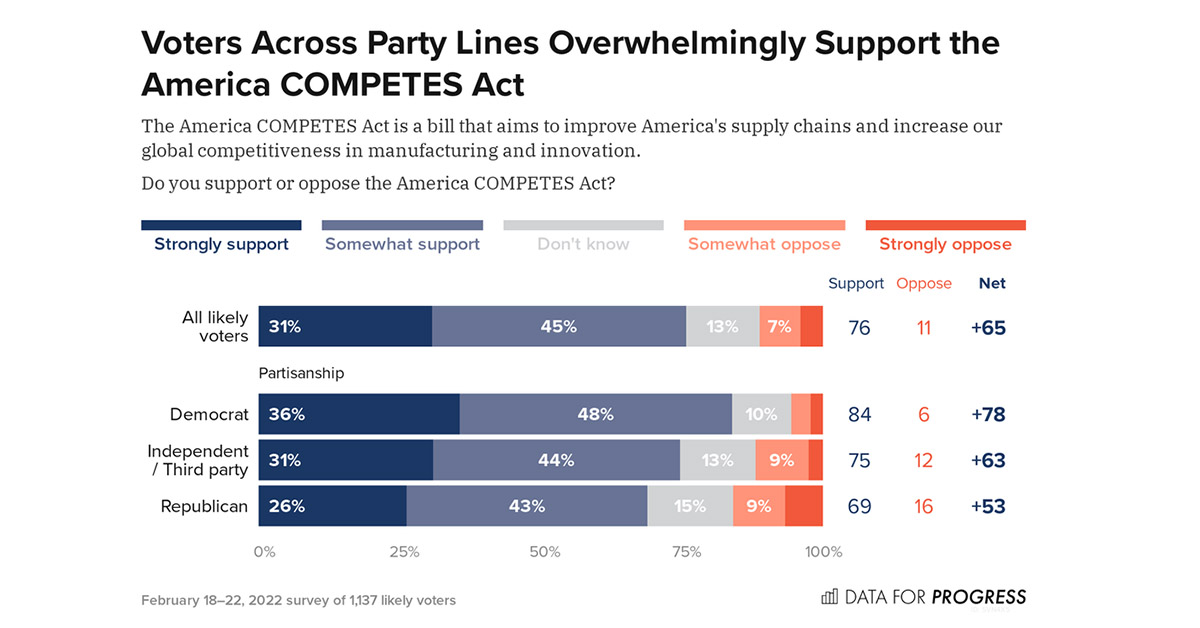 A look at the roadmap for America's competitive future.
Congress has announced conferees for joint legislative work on the Bipartisan Innovation Act (BIA).
The bill is being hailed as a landmark investment in America's future, with support on both sides of the aisle and endorsements from American labor and industry leaders. But what is BIA?
Simply put, the Bipartisan Innovation Act is a large-scale investment in the United States' ability to innovate and conduct business in science and technology markets in the face of stiff competition.
In 2005, economic rival China surpassed the United States in the number of STEM (Science, Technology, Engineering, and Math) degrees awarded each year. These degrees are a critical marker of success in relation to the number of U.S. patents developed.
The need to keep pace is also met with an opportunity to invest in American-made manufacturing, which can create jobs at home. Recent supply shortages in tech manufacturing have brought once-cheaper options abroad for critical components like semiconductors more in line with the cost to produce them in the United States.
The Bipartisan Innovation Act would capitalize on this opportunity to address future supply shortages in tech manufacturing, create jobs, and lay the groundwork for future innovations in science and technology that can keep American industry and labor competitive in the long run.
The provisions of this bill are not set in stone yet, as Congress discusses what sections will and will not be included. However, the core of BIA achieves its goals for American competitiveness through several key investments:
Advances STEM Education
First, BIA invests in advancing STEM education. By following the education system from pre-k to post-doctorate, provisions in the bill would help to better equip parents, families, and children with the tools they need to excel at any age and foster a safe, flourishing home life.
Notably, BIA would invest in pre-kindergarten STEM programs, helping kids excel in school, boosting academic preparedness, and leading to better outcomes for children and families over the long term. It would also include provisions supporting high school STEM education, and better meeting the unique educational and economic needs of rural areas. They would fund additional undergraduate scholarships, graduate fellowships, and post-doctoral awards, further strengthening our STEM workforce with the tools they need to succeed and win in the twenty-first century.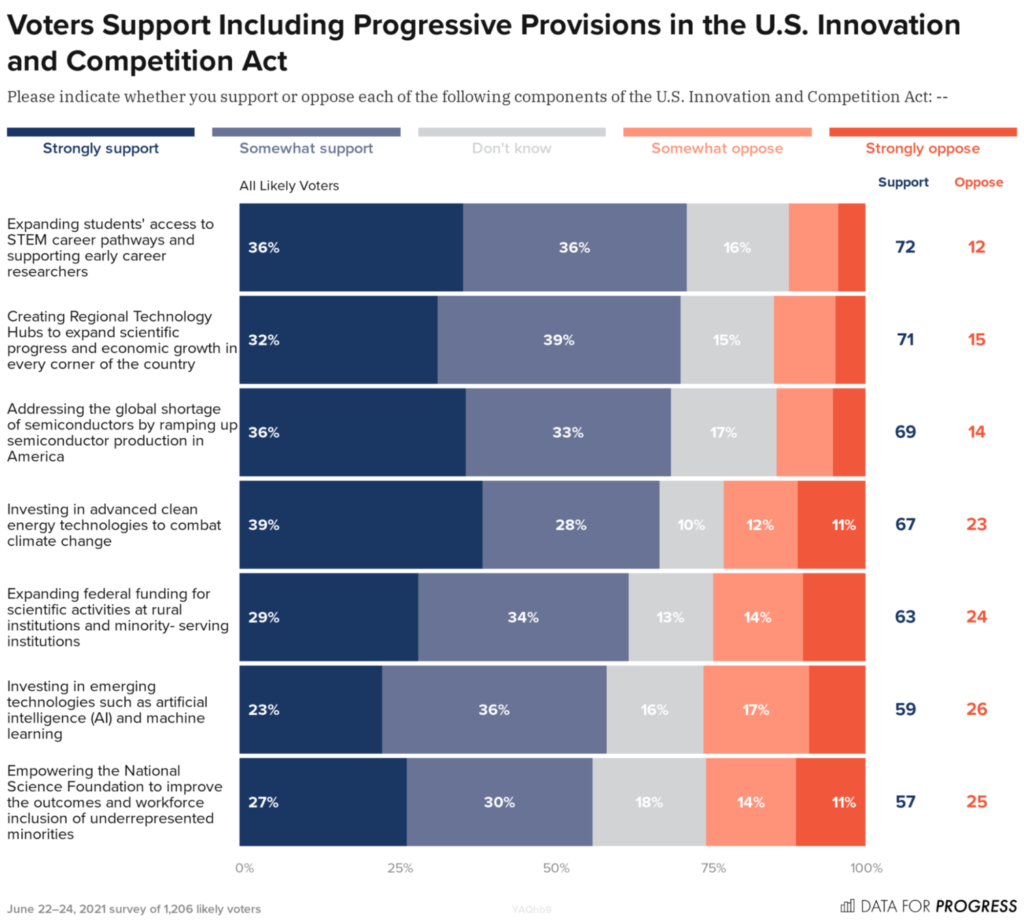 Promotes Manufacturing
Second, the Bipartisan Innovation Act would strengthen American manufacturing by providing for well-paying, high-quality jobs for families across the country. This bill would directly support businesses and jobs in every corner of the United States, helping millions of American households achieve economic success and financial stability. And each would invest in the physical infrastructure we need to protect and strengthen the American way of life.
Specifically, $50.2 billion for the CHIPS for America Fund would help secure domestic supply chains, create new manufacturing jobs, and reduce costs brought on by pandemic-related shortages. Reauthorizing and strengthening the Hollings Manufacturing Extension Partnership (MEP) would bolster small and medium-sized manufacturers nationwide and help provide more meaningful career paths for Americans residing in traditionally-underserved communities. And supply chain resiliency programs would also dedicate roughly $45 billion in grants and loans for American businesses to boost domestic manufacturing. These initiatives would in turn create hundreds of thousands of well-paying jobs, helping to support families and put parents and kids alike on the path to success.
Jobs and Apprenticeships
Third, we know that American families need better access to economic opportunities right where they are, and the BIA would help by providing a backstop for the kinds of jobs our nation's families can count on.
The House's bill would also reauthorize the National Apprenticeship Act, strengthening hiring efforts for marginalized and rural communities across the country. Additionally, provisions related to Early-Career Research Fellowships would also facilitate exciting new opportunities related to entrepreneurship and innovation, presenting scholars and practitioners alike with the chance to get ahead and innovate in new ways. Finally, additional workforce training programs would facilitate skills-building to help prepare the nation's workforce for our ever-changing and increasingly globalized economy.
The provisions of the Bipartisan Innovation Act represent a high-impact in the economic security of American families through these targeted investments. In the short term, the creation of jobs and renewed pathways toward 21st-century work will ensure more Americans are earning good paychecks that will strengthen the ability of workers to cover costs in their households. In the long term, parents can know that if BIA is signed into law, it will lead to investments in their children which will ensure they will be equipped for success in a competitive American economy that is oriented toward prosperity in the future.