Impact
Eradicating Poverty
American Poverty More Extreme than Near Peer Nations
Despite the United States' international stature as a wealthy developed nation, poverty remains high in comparison to many of its economic peers. 
According to the U.S. Census Bureau, 37.2 million people in the United States are living in poverty, a 3.3 million increase from 2019 rates.
This reflects an official poverty rate of 11.4 percent under the federal poverty line of $12,760 in total income annually. However, calculations of poverty based on median income estimate rates as high as 17.8 percent.
Standards of living are high for citizens in the middle and upper income ranges in the United States. However, the standards of living for the poor fall behind most other industrialized nations.
These circumstances are even more prevalent for children. 20.9 percent of American children live below half the national median income and are among the most vulnerable in facing financial hardships, along with senior citizens, and racial minority groups.
While physical poverty in the U.S. is obviously less extreme than in other parts of the world, the conditions for Americans experiencing poverty still include food insecurity, shelter insecurity, mental health challenges, unemployment and limited access to basic services.
Direct Cash as a Tool for Poverty Reduction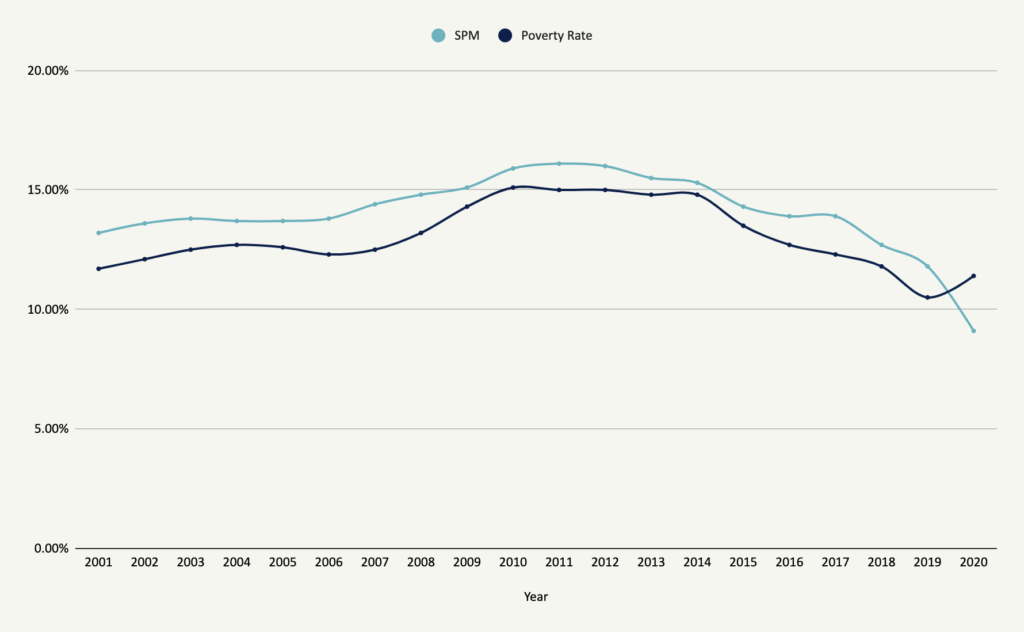 Recent efforts to reduce American poverty and its detrimental effects have included the implementation of direct cash initiatives, which have proven themselves to be an efficient and streamlined tool for alleviating hardship.
The official poverty rate of 11.4 percent in 2020 was up 1.0 percentage point, from 10.5% in the previous year. This was the first increase in poverty after five consecutive annual declines.
However, the overall Supplemental Poverty Measure (SPM) in 2020, which measures cash resources and also includes non-cash benefits and subtracts necessary expenses (such as taxes and medical expenses), was 9.1 percent. This was 2.6 percent lower than the 2019 SPM rate of 11.8 percent.
According to the Census Bureau's Supplemental Poverty Measure report, stimulus payments, enacted as part of COVID-19 economic relief legislation in three separate cash transfusions, moved 11.7 million individuals out of poverty in 2020.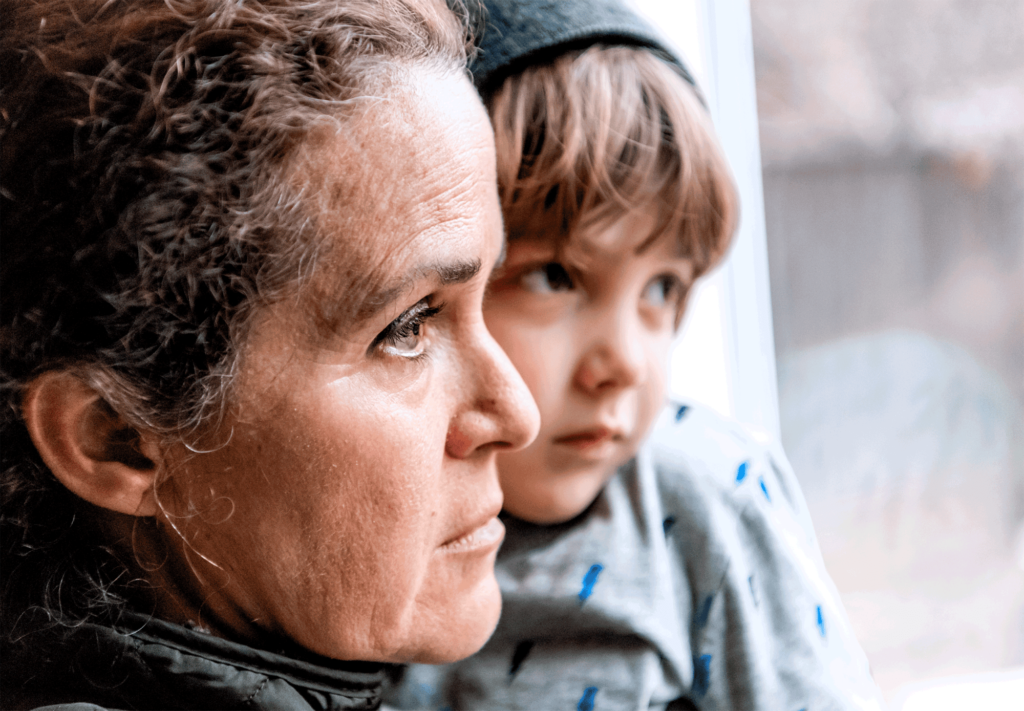 Impacts of Alleviating Poverty using Direct Cash Transfers
In a time of economic uncertainty that would have otherwise been associated with a sharp increase in poverty, direct cash played a pivotal role in preserving the financial stability of millions of American households.
Researchers have highlighted the significant impact that direct cash payments like stimulus checks have had on eradicating poverty. The two latest rounds of direct cash, for instance, improved Americans ability to buy food, pay household bills and reduced anxiety and depression caused from financial instability.
Additionally, from December 2020 to April 2021, food insecurity decreased by 40 percent, financial hardships by 45 percent and reported mental health symptoms by 20 percent; These were all declines that were most prevalent and beneficial towards low-income households.
Another direct cash policy that has had a significant impact on reducing poverty is the Child Tax Credit (CTC).
The CTC, a recently expanded benefit granted to American taxpayers for each qualifying dependent child, cut food insecurity by 24 percent among households with adults and children and lifted 3.3 million children from poverty in the first of six monthly direct payments. The Child Tax Credit disburses $300 for children aged 0-5, and $250 for children aged 6-17 and is projected to reduce child poverty by at least 45 percent, according to estimates from Columbia University.
Opponents of direct cash programs argue that those living in poverty will only waste direct cash from policies like the Child Tax Credit. However, several studies have shown that the most common uses for the CTC are groceries, housing, utilities and savings towards emergency funds.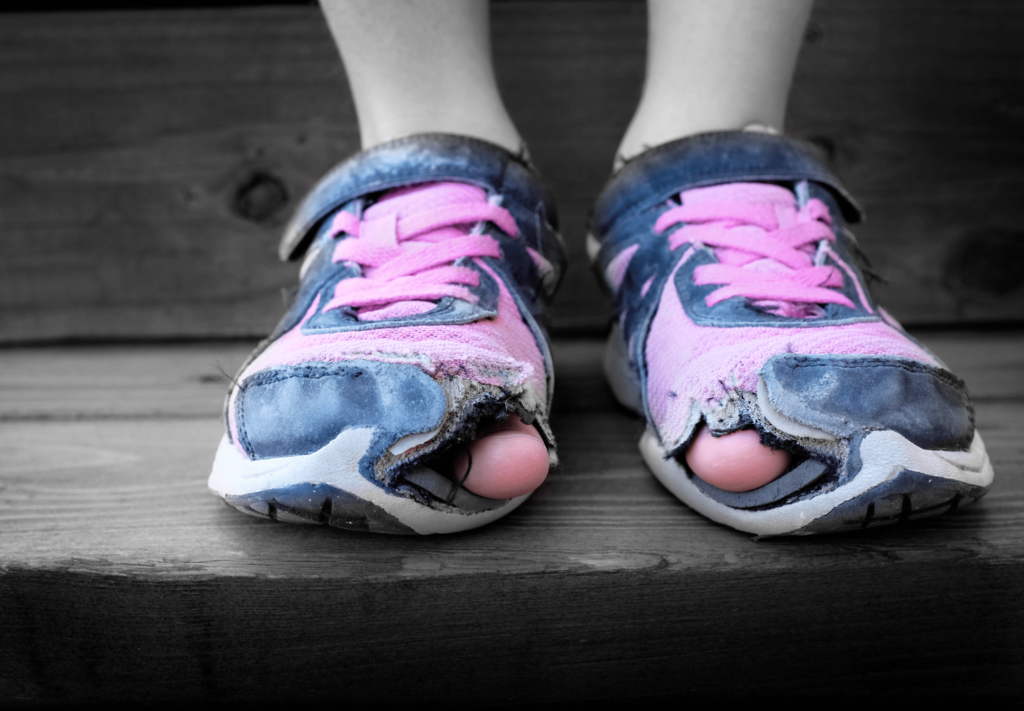 Additionally, data collected by the University of Michigan in 2019 suggests that material hardship rose in the absence of government intervention. Researchers believe that the success behind the federal government's efforts in reducing poverty amid the COVID-19 pandemic can largely be attributed to the use of direct cash transfers.
These measured reductions in American poverty are closely tied to the policy initiatives Humanity Forward has advanced in Washington, D.C. to date. Starting with the second round of economic aid in the Consolidated Appropriations Act in December 2020, which led to the appropriation of $166 billion delivered to the American people as $600 checks, Humanity Forward's efforts on Capitol Hill have provided necessary economic aid to Americans in a time of crisis.

These efforts continued with Humanity Forward's work with members of Congress and partner organizations on the American Rescue Plan Act of 2021, which led to a third stimulus check of $1400, totaling $411 billion, appropriated for millions of Americans and the passage of the expanded Child Tax Credit, which has disbursed monthly assistance to American families since July 2021 and will continue until December 2021 unless extended.